Freshwater Phil online
Home page
My Fishing Blog
My Fishing Videos
Links
Contact Me
Recommended
Ice fishing guides
Montreal fishing guides
Montreal fishing spots
Fishing trips/outfitters
Fishing guides
by species
Casting/trolling
Bass
Musky
Pike
Shad
Sturgeon
Trout (salmonids)
Walleye
Other techniques
Fly fishing guides
Ice fishing guides

Top trout fishing guides in Montreal recommended by Freshwater Phil.
Though the immediate waterways in the Montreal region don't contain much trout, a couple hours drive either to the Eastern Townships, or the upper Laurentians, will provide you with some of the best lake trout, brown trout, rainbow trout, and landlocked salmon fishing in Quebec. Aside from catching big, tasty trout, you'll enjoy being out in nature in the foothills of the Appalchian or Laurentian mountain ranges.
Fishing for trout and landlocked salmon in Quebec, is season specific. Early spring is trolling time, using light gear and streamers, small spoons and crankbaits. As the trout go deeper in summer, finesse jigging with the aid of high tech electronics takes trout fishing into another dimension.
Trout fishing season opens late in April the Montreal region, guided outings are available all the way through mid August, just before the season closes early in September.

I recommend the following trout fishing guide to help you various trout / salmonid species:


Patrick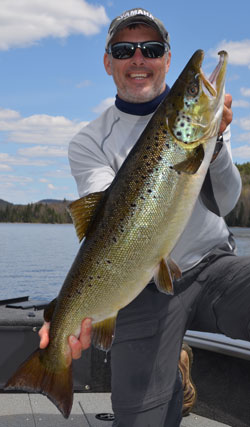 Boat Specs: 17.5 foot Lund, 75 HP engine, GPS, sonar.

Techniques: Spring = trolling, Summer = finesse jigging.

Best time: Late April until mid August.

All gear and tackle provided.

3 people maximum.350$ for 1-2 people, 450$ for 3 people.

Tips welcome.
Contact Patrick about a guided fishing trip by clicking here.