Freshwater Phil online
Home page
My Fishing Blog
My Fishing Videos
Links
Contact Me
Recommended
Montreal fishing guides
Montreal fishing spots
Fishing trips/outfitters
Memorial for my Dad obm
Species
Bass
Carp
Channel catfish
Musky
Northern Pike
Perch/panfish
Sturgeon
Trout/Salmon
Exotic species
Got carp?
Carp fishing lessons
Carp picture gallery
Buy hair rigs



Bass fishing in Montreal
Each species has it's specific thrill. Largemouth bass and smallmouth bass are very numerous, grow to decent sizes and offer some of the best pound for pound action of any freshwater fish. Their willingness to take a huge variety of lures and baits on a multitude of setups makes them easy to catch. They are among my kids favorites as well, and as we often top 50 bass per day, they don't have enough time to get bored. Soem of my favorite bass lures are Rebel Pop-R, Arbogast Jitterbug, Heddon Zara Spook Jointed floating Rapalas and Rapala Countdowns.


Largemouth Bass
Largemouth bass are more of a warmer water fish than smallmouth bass. Accordingly, their range in Canada is limited to Southwestern Quebec and Southern Ontario. Due largely to the popular American Largemouth bass fishing culture (fishing magazines, TV shows and tournaments), Largemouth bass fishing in Canada is becoming very popular. The huge bucketmouths make for explosive topwater strikes, and enable them to take bigger lures than Smallmouth bass of the same size. Their thick girth and heads makes for impressive pictures as well.
Largemouth bass prefer shallow water year round. They related well to structure such as heavy weed cover and sunken logs. When they are active, they'll take a variety of lures such as spinnerbaits, crankbaits, jerkbaits and topwater lures. When they are less active, artificial plastics lures such as frogs, big worms and lizards fished very slowly will often be necessary to catch them.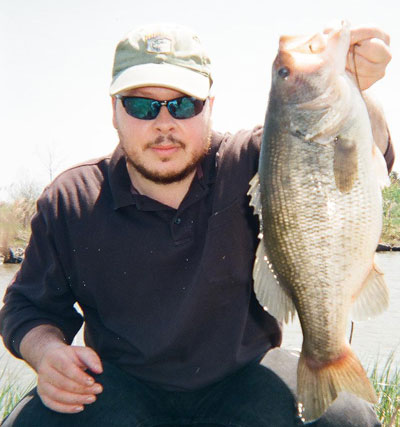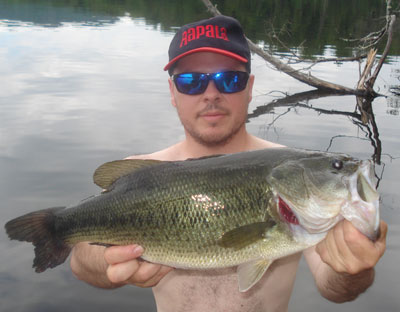 Smallmouth Bass
Smallmouth bass prefer cooler water than Largemouth bass. Accordingly, they have a wider range in Canada, stretching from the Maritimes into the Prairies, and reaching further North than Largemouth as well. Smallmouth bass are spectacular, relentless fighters. They jump, tail dance and seem to never give up. Smallmouth bass are more abundant and fare better in our waters. Most Canadian bass tournaments are won mainly on Smallmouth bass.

Smallmouth bass move in and out of deeper water all through the season. They can be caught in 1-2 feet on some days, and 40 feet on other days. They relate well to rock structure, often foraging for crayfish and gobies under the rocks. When active, they'll hit minnow baits, crankbaits, topwater lures and spinners. When they are less active, switch to jigs or drop shot rigs. They seem to hit better on live bait (worms, leeches) than largemouth bass.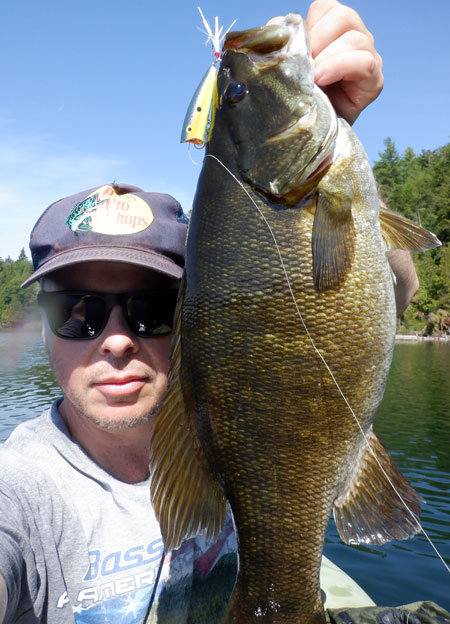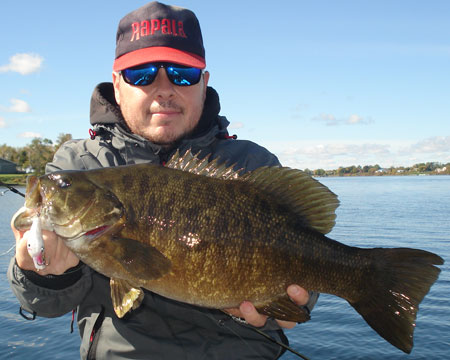 Mark offers guided bass fishing trips, contact him by clicking here.