Freshwater Phil online
Home page
My Fishing Blog
My Fishing Videos
Links
Contact Me
Recommended
Montreal fishing guides
Montreal fishing spots
Fishing trips/outfitters
Memorial for my Dad obm
Species
Bass
Carp
Channel catfish
Musky
Northern Pike
Perch/panfish
Sturgeon
Trout/Salmon
Exotic species
Got carp?
Carp fishing lessons
Carp picture gallery
Buy hair rigs



Trout
Not too many spots around Montreal have trout, and the places in the St Lawrence River are quite tough to fish to say the least, so I rarely target them. I can safely say that trout have been my least targeted species outside ice fishing for stocked trout.


Trout (Brown trout, Rainbow trout, Brook trout)
Occasionally, I'll head out to some smaller waterways within a couple hours drive of Montreal, throw on a pair of waders, break out the ultra light tackle, and hit some rivers to catch some for the table, as both brown trout and rainbow trout are excellent eating fish. Trout can be caught by drifting worms in the current, or fishing them near the bottom. When agressive, they can also be caught on spinners or small crankbaits, as well as flies.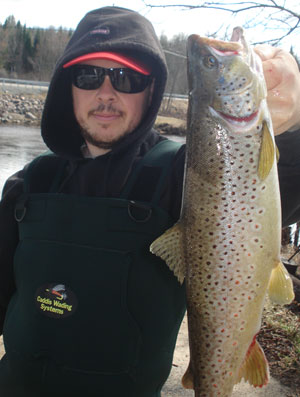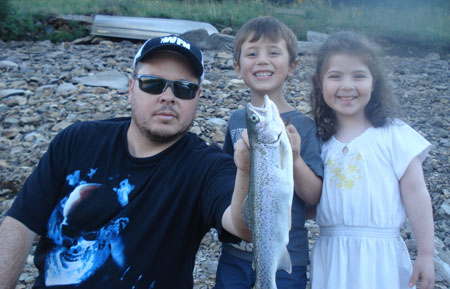 Great lakes Steelhead and salmon
These big salmonid inhabitants of Lake Ontario were introduced, being that original strins of Atlantic salmon in the lakes were wiped out over 100 years ago. As such, the fishery is mainly "put and take", though they naturally hit the surrounding rivers and tributaries to spawn in the fall. Amazing steelhead fishing is enjoyed on Lake Ontario during th espring and summer, and then in the tributary rivers throughout the fall and winter.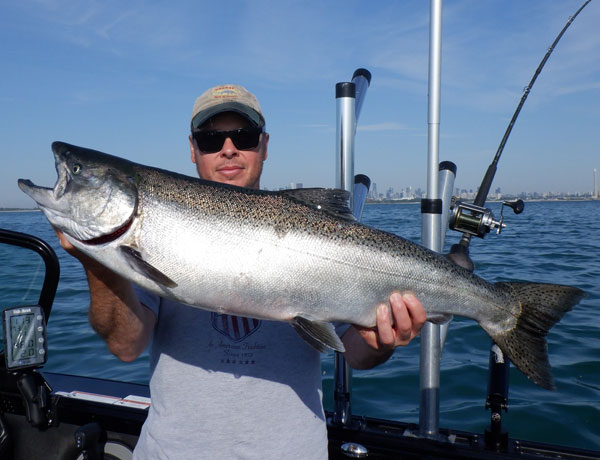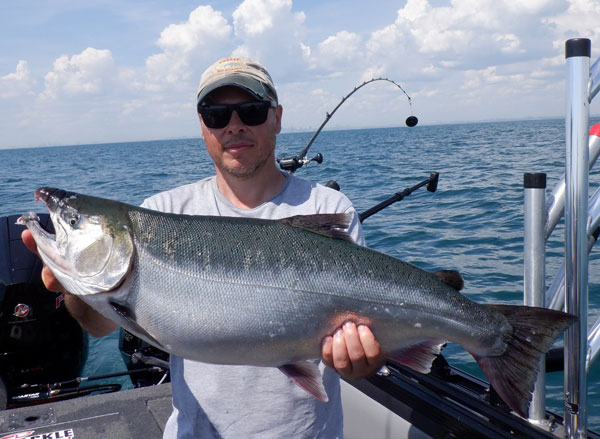 Lake trout
Lae trout are acutaly members of the char family, and represent the largest species of natural salmnids in Quebec. Some of the reservoirs a few hours drive from Montreal have 40+ lbs lakers. From the Eastern Townships, to some of the biggest and smallest lakes North of the St Lawrecne all the way up to Hudson's bay, lake trout can be found in good numbers and sizes. Lake trout are easily caught within the first week or two after the season opener, when the water is just above freezing, and they are up shallow. As soon as it warms up a bit, they head deeper down, and catching big lake trout ones gets a lot tougher.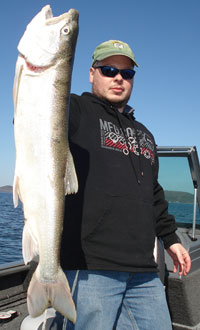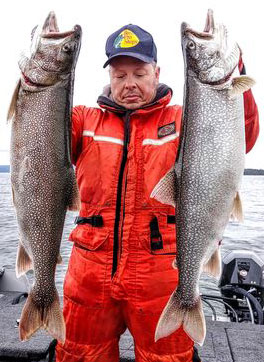 Stocked trout
Though most of Quebec's lakes have (or had) native populations of brook trout and speckled trout, the vast majority of the provinces trout fishermen go to stocked lakes. Some stock them with the intent of having them reproduce naturally, others stock them near trophy size just to be caught for the table. The famous "Mouchetée" is probably the most sought after fish in Quebec, due to its excellent flavor. I've taken them to ice fish stocked lakes during the winter a few times, as a way to initiate my kids into ice fishing. Some outings were better than others, but they always have fun with our special version of shore lunch. I've also taking them to stocked ponds when fishing was very slow or times was limited, as they have acquired a taste for trout.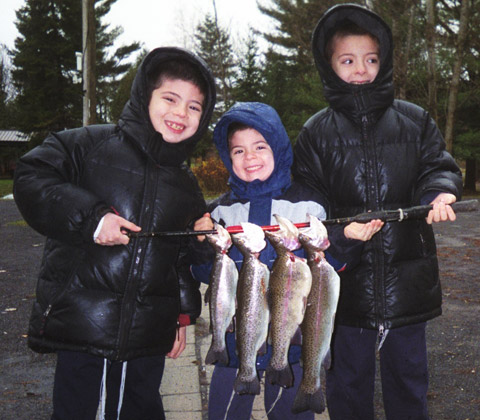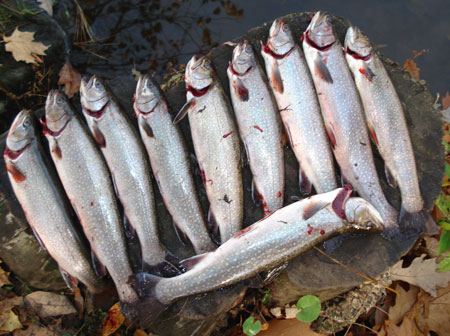 Patrick offers guided fishing trips for landlocked salmon and lake trout, contact him by clicking here.